Samsung Galaxy Z Fold 5 (12GB RAM,512GB Storage)-Icy Blue
Save

6

%
Original price
Rs. 164,900.00
Current price
Rs. 154,900.00
Samsung Galaxy Z Fold5
Avail pre-book benefits worth ₹ 30000*
Early delivery by 15th August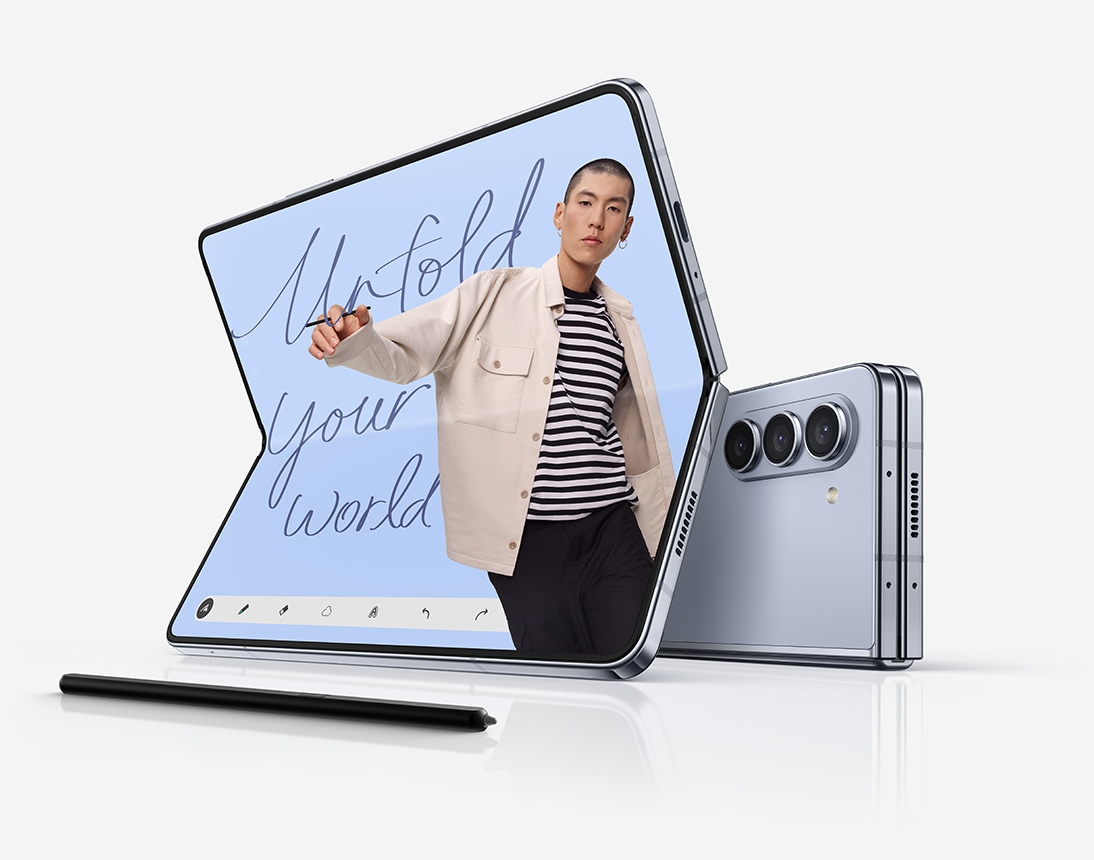 Key Highlights
PC-like power. Now in your pocket.
Meet the phone with a big screen like a mobile movie theater. The one that's both an exciting game console and a multi-screen, multitasking workhorse. And topped off with a powerful, pro-grade camera. All folded into your hands.
Galaxy Z Fold5 | Unfold More
MULTITASKING

BIG SCREEN

BATTTERY

CAMERA
The ultimate 19.21cm (7.6") Main Display
Unfold a stunning, immersive screen — reimagined to bring you gaming like never before, cinematic viewing wherever you are and PC-style productivity — all on a tablet-sized device.
Light passes over the bottom frame of a folded Galaxy Z Fold5 hidden in darkness. Another glimmer reveals the edge of the bottom frame again as the device opens up, revealing the entire device seen from a fully opened Main Screen. A scene of a sport utility vehicle parked on a reflective surface that mirrors a starry night sky is shown on the display.
Our lightest, most compact Galaxy Z Fold yet
The laws of physics have nothing on this leveled-up design. Galaxy Z Fold5 lives up to its name by folding closed, making a massive screen implausibly pocketable.
A close up of the partially folded Main Screen as it completely closes. The final angle centers on the frame and Flex Hinge seen from the bottom.
Open it up, fold it shut or flex to the perfect angle. The redesigned Flex Hinge is a technical marvel that bends to your will.
*Image simulated for illustrative purposes.

Slimmer, lighter and more portable than ever
We've trimmed down the form factor, giving you a tighter grip on what you love without sacrificing an ounce of power.
Set the vibe with your favorite colour
The future looks bright with these nature-inspired hues.
Special edition colours you can only find here
For the trendsetters who love to stand out — get ready to meet your match. Take your pick from two special colours from our urban nature lineup.Only on Samsung.com.
And now for your viewing pleasure
*Image simulated for illustrative purposes. Actual UI may be different.
1750 nits keeps it bright. Even in direct light
Don't worry about sunlight ruining your view as you enjoy a movie-going experience on the 19.21cm (7.6") Main Screen. You'll feel like you're right in the middle of the action — with Galaxy Z Fold5 emitting up to 1750 nits of brightness.
*Image simulated for illustrative purposes. Actual UI may be different.
*Flex Mode supported at angles between 75°and 115°. Some apps may not be supported in Flex Mode or Flex Mode Panel.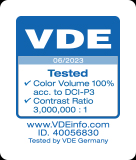 A phone this impressive — you'll want to be on it all the time. And with a massive 4400mAh (typical) dual battery system, you can.Paired up with an advanced processor, it efficiently adjusts power usage to your habits and your needs, making one charge last longer than ever before.
Powerful gaming with the fastest Snapdragon on a Galaxy Z Fold yet
Power your road to victory with the upgraded hardware and software of Snapdragon® 8 Gen 2 Mobile Platform for Galaxy.This high-performance processor fuels champion-level gameplay.
*"HoYoverse" is a trademark and/or registered trademark of COGNOSPHERE PTE. LTD.
*Genshin Impact available for download at Galaxy Store now.
*Genshin Impact artworks are copyrighted and Cognosphere PTE. LTD. enjoys the exclusive rights.
*Image simulated for illustrative purposes. Actual UI may be different.
*AP performance improvements shown compared to Galaxy Z Fold4. Actual performance will depend on user environment, conditions and pre-installed software and applications.

Gameplay of Genshin Impact. Movement is smooth and graphics are clear.
Multi Window.
Your multitasking secret weapon
The most advanced multitasking experience on a Samsung Galaxy smartphone yet lets you keep three windows on one screen, so you can stream, shop, browse and play more.
Three windows are open on the Main Screen of Galaxy Z Fold5. Two are internet browsers and one is a text message chat. In one of the internet browsers is a photo of a cake. The cake is cropped from the picture and dragged and dropped in the text message chat.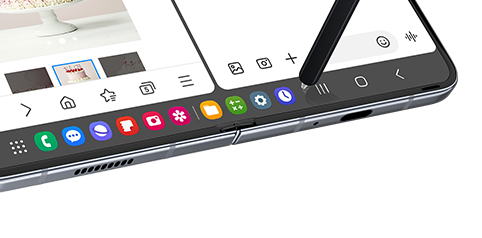 The task bar holds up to twelve apps at once — now keeping four of your most recent — so you can effortlessly swap between the ones you like to use the most.Add S Pen to your task-blasting toolkit for even more efficiency.
*Image simulated for illustrative purposes. Actual UI may be different.
The most portable S Pen for Fold yet, with a compact case
When the ideas flow, reach for S Pen to write, scribble and jot with precision your hands could only dream of.Open Samsung Notes for a canvas that syncs across all your devices, or make journaling an artform in your favorite note-taking app.
*Image simulated for illustrative purposes. Actual UI may be different.
*GoodNotes app requires separate download and purchase. App availability and terms of service may vary by country and region.
Standout cameras. Cover to cover
10MP

3x Optical Zoom Telephoto Camera

50MP

Wide-angle Camera

12MP

Ultra Wide Camera

10MP

Cover Camera

4MP

Under Display Camera
*Image simulated for illustrative purposes. Actual UI may be different.
The 50MP MVP
Not just an advanced camera system, this unique form factor featuring two expansive displays allows you to set up your phone like a mobile studio, complete with 30x Space Zoom.So you can shoot, reshoot, zoom and edit with a whole new level of creative freedom.
Dual Preview puts your subject in control
Unfold Galaxy Z Fold5 to show your subject exactly what you're seeing in the viewfinder.This way, they can adjust their pose and fix their hair to look their best.
*Image simulated for illustrative purposes. Actual UI may be different.
A tennis player poses for a photo on the tennis court. A teammate kneels in front to take the photo with the Rear Camera of an unfolded Galaxy Z Fold5. The photo taker observes the Main Screen while the photo subject observes the Cover Screen. Next, the photo preview is displayed on the Cover Screen as well as the Main Screen.
Make lowlight your new favorite setting
Unfold to the Main Screen and capture the high resolution night photos you've always dreamed of — stunning lowlight photography that captures each moment with colour and clarity.
Tap record. Capture memories
A florist clips the stems of a bundle of flowers. The natural movements, shades of colours and diverse textures of the flowers are captured with realistic quality and definition.
With the Rear Camera, take videos lush with colour and detail. For even more clarity, Auto Frame Rate sets the optimal exposure from moment to moment, so your video stays bright from start to finish.
*This video has been retouched for colour correction. Actual UI may be different.
Multiple exposures. One picture-perfect outcome
Download Expert RAW to shoot and finesse your photography like a pro.Explore easy-to-use special effects, like Multiple Exposure. Shoot and blend up to nine photos into a layered work of art. And in Flex Mode, Galaxy Z Fold5 becomes its own tripod — steady and hands-free.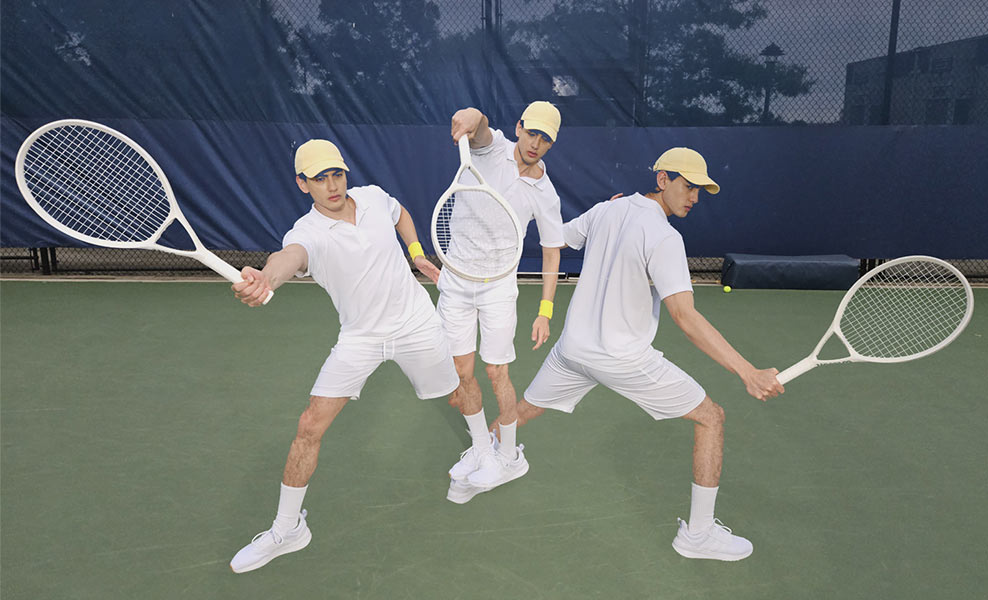 Premium and tough, inside and out
Galaxy Z Fold5 stands up to fold after fold after fold. Enroll with Samsung Care+ to ensure that even big accidents can be forgiven.
Armor Aluminum Frame

Galaxy Z Fold5 is reinforced with a tough aluminum frame.This powerful shell lives up to its name — Armor Aluminum — protecting your folds from damage.

Flex Hinge
Our new double rail hinge is stronger, more durable and a beauty to behold
Water Resistant
Sealed tight with top-of-the-line water resistance
Switch, upgrade and trade. It's all easy
Designed with the planet in mind
We're committed to creating a cleaner future by taking recycled measures.
*Image simulated for illustrative purposes. Actual UI may be different.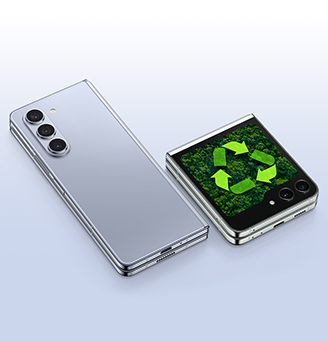 Smart Switch
Safe and secure. Take your photos, apps and messages with you when you switch to Galaxy.
Trade in and save
Send us your old phone to get a new Galaxy Z Fold5 in your hands for less.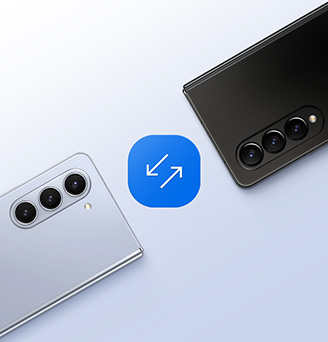 Your Privacy. Secured
With Knox Vault, your private data is secured and protected. Passwords, biometrics and other security-critical information are protected by secure hardware isolated from others. Don't compromise and take charge in this data-driven world with Galaxy's built-in protection.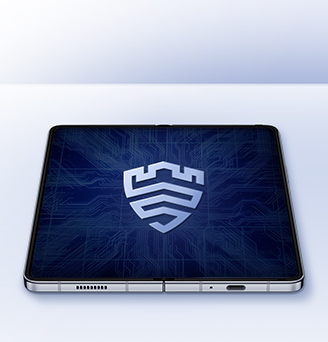 Storage
Store it all with 256GB, 512GB and 1TB options.